Chris Masuak Returns to Oz!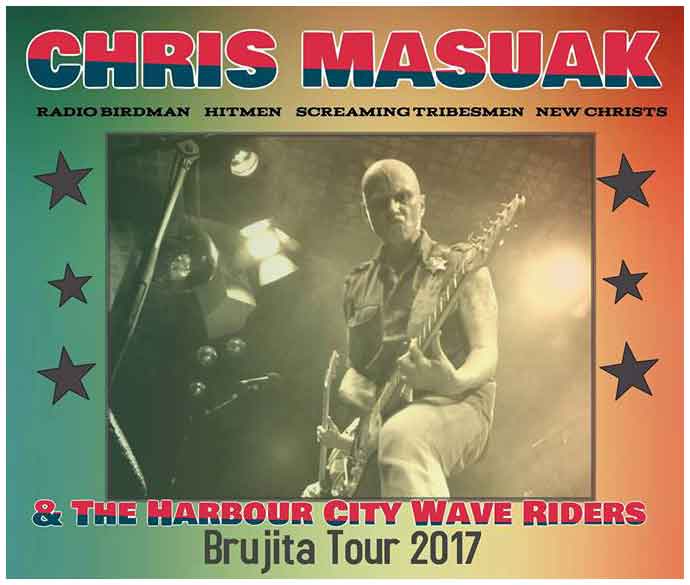 Chris Masuak's musical history reads like a muscle car ride through the mean streets of Australia's rock and roll underground but appearances Down Under have been few and far between since he relocated to Spain.
Masuak is about to right that wrong with a handful of select shows in NSW in March and April, his first in four years.
Friday 31/3/2017 Factory Theatre , Marrickville,NSW

Saturday 1/4/2017 Dicey Riley's, Wollongong, NSW

Friday 7/4/2017 Small Ballroom, Newcastle, NSW

Saturday 8/4/2017 Narrabeen RSL, Narrabeen NSW

Sunday 9/4/2017 Midnight Special, Enmore NSW
Riding the best reviews of this solo career with his album "Brujita", recorded in Spain, the ex-Radio Birdman guitarist will play with a hand-picked Australian band The Harbour City Wave Riders featuring Tony Bambach (Lime Spiders) on bass and Stuart Wilson (New Christs, Loose Pills) on drums.
Canadian-born Masuak achieved teenage notoriety as guitarist for legendary Radio Birdman and then waged a War Against The Jive with Australia's hardest working rock and roll band, The Hitmen.
Next came a stint with the original (and defining) line-up of the New Christs, followed by international prominence with the chart busting Screaming Tribesmen. Klondike has never stood still, exploring his country roots with Chris Boy King and the Kamploops Swing, detouring down Texas blues side-roads with The Juke Savages, and getting tubular with The Raouls.
In 2006, he was inducted, with Radio Birdman, into the ARIA Australian Rock and Roll Hall of Fame.
Masuak came into his own with his solo band Klondike's North 40 and an acclaimed debut album "The Straight Path on I-94 Bar Records.The follow-up, "Workhorse", continued the tradition of unfashionably loud guitar rock and roll with tough tones and terrific tunes.
"Brujita" marks a return to the sort of hard rock-pop Masuak does so well. The shows will be drawn from that record as well as the back catalogue of a long and storied career.