CHRIS KLONDIKE MASUAK IN THE EXCLUSIVE PITSHARK SINGLES CLUB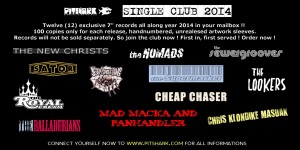 CHRIS KLONDIKE MASUAK RARITIES TO BE INCLUDED IN THE NEW EXCLUSIVE PITSHARK RECORDS SINGLES CLUB!
TWLEVE 7 INCH SINGLES STRAIGHT TO YOUR MAILBOXTHROUGHOUT 2014!
100 NUMBERED COPIES, NONE OF WHICH WILL BE SOLD OUTSIDE THE SINGLES CLUB!
FIRST COME, FIRST SERVED!
PITSHARK RECORDS SITE HERE...
https://www.facebook.com/PITSHARK.Records