Masuak giving a Masterclass while on tour in Australia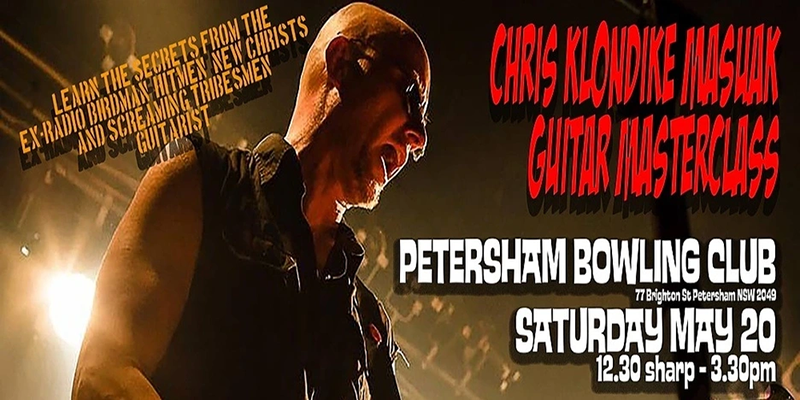 Australian Rock and Roll Hall of Fame inductee Chris "Klondike" Masuak (Radio Birdman, Hitmen, Screaming Tribesmen, New Christs, Juke Savages, Viveiro Wave Riders and Klondike's North 40) is undertaking his first Australian tour in six years in May and June 2023. After years of requests, he will conduct a one-off Guitar Masterclass, downstairs at Petersham Bowling Club in Sydney's inner-west, on Saturday, May 20.
This is the chance of a lifetime to learn from a true master. Chris has been the main songwriter for his own bands and a key player in arranging many Radio Birdman songs. He'll talk tone and technique and take you inside the songs. Nothing will be out of bounds and you'll be able to tap his secrets.

You'll need to be an intermediate player and bring your own guitar (plus any stash you'd like signed.) Amplifiers will be supplied.
The Masterclass will go for three hours from 12.30pm sharp. Participants will receive a T-shirt and an autographed copy of "Faith and Practice in Bedlam", the Masuak-penned book. Attendee numbers will be capped. Direct any questions to This email address is being protected from spambots. You need JavaScript enabled to view it. and book tickets here.
Tags: Radio Birdman chris masuak guitar masterclass klondike petersham tuition