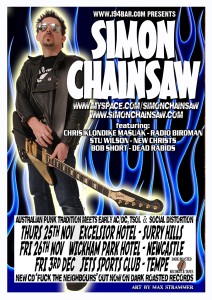 Brazilian-based but Australian by birth and rearing, Simon Chainsaw plays music firmly rooted in the Aussie punk meets rock tradition of the Saints, Radio Birdman and early AC/DC. But it doesn't stop there: Simon draws on brash influences like Social Distortion, Stooges, Pistols, Motorhead  & CBGBs style punk mixed with the dirty melody of Husker Du, Replacements and Foo Fighters.
Formerly frontman for '80s Sydney underground legends the Vanilla Chainsaws, Simon has spent the last decade serving up a unique brand of rock 'n' roll, playing and recording all over the world. He has released four CDs and a further four CD box set of different material under his own name.
It culminated in 2010's best of/retrospective release "Eight Times Lucky" and European and South American tours to support the release. 2010 has been a great year for Simon Chainsaw and he's coming home for a brief run of gigs in November-December that will be his first in Australia.
And his band are no lightweights either….. the line-up inciudes veterans of the Aussie Rock'n'roll scene like lead guitarist Chris Klondike Masuak (Radio Birdman, Hitmen, New Christs, Screaming Tribesmen), ex-member of seminal Sydney punk band Filth, Bob Short (Dead Rabids), and Stu Wilson (current drummer with Rob Younger's New Christs.)
To coincide with the tour, Simon will launch his sixth solo release "Fuck The Neighbours!" In some ways it's his "garage days" album where Simon pays tribute to Aussie '70s punk bands. Simon revisits 18 Oz punk classics and obscure gems and in a strictly limited edition of 450 hand-numbered copies.
Thurs 25th NOV – EXCELSIOR HOTEL, SURRY HILLS – SYDNEY + Decline of The Reptiles + Lollipop Sugar
Fri 26th NOV – WICKHAM PARK HOTEL – NEWCASTLE + The Dragstrippers (Dragstrippers playing two sets)
Fri 3rd DEC – JETS SPORTS CLUB, TEMPE – SYDNEY (multi-band bill tba – Barfly Promotions Christmas Party)